Good morning friends.  It is a sweltering 35 degrees outside right now.  I'll be heading to the Bloomington Handmade Market later today, and I'm excited.
I'm so happy to tell you all that after one week of crate rest, Apollo is doing very well. So well, in fact, that his vet said Apollo only needs one more week of crate rest rather than two. We had a checkup yesterday; we sat on the floor and instead of letting the vet examine him, Apollo immediately hopped into my lap for snuggles instead. "That tells me all I need to know," the vet said.  It had been the first close snuggles I'd been able to have with Apollo since his injury a week ago; all the seratonin and dopamine my body had been hoarding from me immediately released. I felt so happy to be snuggling my recovering pup.
When we got home, I tried to repeat our snuggle session since the vet cleared us for (very controlled) snuggles. I took Apollo upstairs in our office and closed the door, but he wasn't having it.  His brain was like: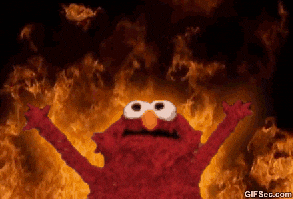 I've been doing pretty well working from home. I'm at the point where I'm inundated with work (which, in consulting, is better than the alternative!) I will be in trouble if I don't finalize edits on a letter report this weekend though.  I'm trying to find an excuse to leave the house once a day, even if it's just to take the recycling over to the dropoff station.  I did that Monday; the dropoff station is next to an elementary school, and as I was taking out my recycling, this song came on the radio.  It was a pretty funny juxtaposition, especially for such a mundane activity.
I bought some yarn during a WalMart run the other morning.  I'm going to try making a baby blanket with these colors (#notmybaby).
This is Lion Brand Mandala yarn in the "Troll" colorway. I figured it was a good mix of colors for a gender-neutral blanket.
And I'm making progress with my knitted scarf.
It's a fun and easy pattern, but I'm ready to be done with it already.
I'd better get up so I can get ready. Have a wonderful Saturday!